Frigidaire Fridge Repair FGHT1832PH1
Top-Freezer FGHT1832PH1 Refrigerator Repair
Max Appliance came out to the home of our client and resolved their broken Frigidaire FGHT1832PH1 fridge. When they contacted us, it wasn't cooling properly and that posed a problem because if food spoils you have to throw everything away- which would cost a pretty penny! Our technicians were able to come out right away and get their fridge running like new, so they didn't lose all of the contents of their fridge. After inspection on top to bottom on the customer's refrigerator, we discovered the condenser coils needed to be replaced. We ordered the parts and were able to replace them right away. This client was happy with the results of their fridge repair for their FGHT1832PH1 fridge, they didn't have to throw out all of their food!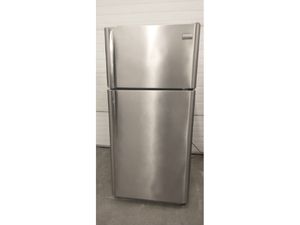 Call (647) 477-0946 for Fridge Repair
With over 15 years of experience, we specialize in urgent household appliance repairs of all major makes and models. Our fast and friendly team of professional technicians always puts your needs first. With a van fully stocked with equipment and parts, we are always prepared to tackle any of your main household appliance malfunctions.